biasa klu orang kata tggl bawah tanah ni maknenye dalam kubur la kan... tp 2 kat Malaysia je la...
tp kat South Australia ni bila korang tgk mesti blur coz xkan nmpk manusia atau ape bangunan or rumah..
coz semua nye bawah tanah... pelik kan.. but its reality..
sebuah pekan yang dibina di bawah tanah... disebabkan ia terletak di kawasan gurun, mereka membinanya di bawah tanah kerana suhu yang lebih sejuk.. n jgn risau kerana tanah xkan runtuh.. even ia sebuah tempat perlancongan yang popular.. ia mempunyai segala kemudahan kecuali kenderaan awam..
populasi setakat ini adalah 4000 orang..
disebabkan artikel ni aku jumpa n aku malas nak translate.. so korang baca la sendiri.. klu x cukup artikel ni, cari la sendiri dalam internet...
The name Coober Pedy developed from the Aboriginal "kupa piti", meaning "white man's hole in the ground" or "white man in a hole".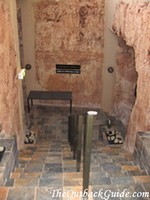 If living underground sounds horrible, as in dark, damp and cramped, think again. These homes with their rose coloured sandstone walls are gorgeous.
If I had a nice hill, of the same sandstone that they get here, on my own block at home, I'd start digging today.
Have a look at the page about Coober Pedy underground homes and you will see what I mean.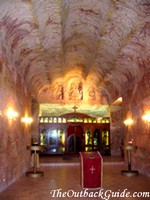 Spend some time in Coober Pedy and you will definitely see what I mean. Underground homes are the best idea ever!
Everything here is underground: lots of the shops, the hotels, motels and backpackers, a swimming pool, the churches, there is even underground camping.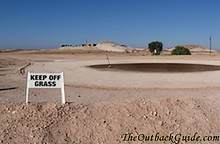 The golf course, consisting of sand, gravel and oil slicks, is above ground.
They don't have water in this town, but they do have a sense of humour.

Coober Pedy life revolves around opals (and tourism). You can visit dozens of stores here, and you can also explore some of the mines. There's quite a selection of old mine shafts to wander through, as well as guided tours through active mines.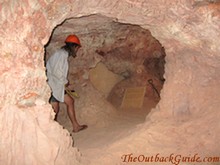 The self guided tour in the Old Timers Mine is my favourite.
This mine is from 1916. The original miners had filled in the shafts and hidden it, presumably to come back later to get the rest of the opal. There's plenty left in it...
But for some reason they never returned.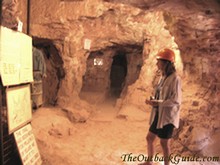 The hidden shafts and the opal still waiting in the walls were accidentally discovered during the excavations for a home extension.
(You're not allowed to do any opal mining in the town itself any more, but you can always extend your home...)
The owners decided not to recover and sell the opal (some of the pieces visible are easily worth tens of thousands of dollars). It's still there in the wall.
It's a fun and informative tour and also includes a museum part and some underground homes. You can even find out what is required to stake a claim and to start opal mining yourself.
Another good place to learn about opal mining, both in the old days and today, is the display in the Desert Cave Hotel. The Desert Cave Hotel is the flashiest accommodation in Coober Pedy (underground, of course), but their doors are open to all. Visitors are welcome to stroll through and the display is really excellent.
There's one more thing that needs mentioning:
If you have travelled in the Australian Outback before, then you know that once you leave the populated areas you are restricted to a somewhat monotonous fare: steaks, bacon and egg sandwiches, burgers, fries and pies, accompanied by two limp lettuce leaves and a sad, pink slice of cardboard, pretending to be a tomato.
But the food at the clubs and restaurants in Coober Pedy is fantastic! The reason is that Coober Pedy's population is so multicultural. You will soon note that the Australian accent is the exception. 45 nationalities are represented here, making Coober Pedy one of the most ethnically diverse communties in Australia.
For some reason the town has attracted lots of people from eastern Europe and from the Mediterranean. The majority are Greek, Yugoslav or Italian. And can they cook...
Maybe make it three nights...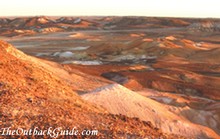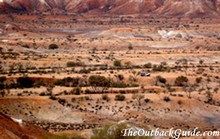 Anyway, before you leave for good make sure you have a look at theBreakaways! You may even want to consider a bigger loop, taking in Oodnadatta and the Painted Desert..

---